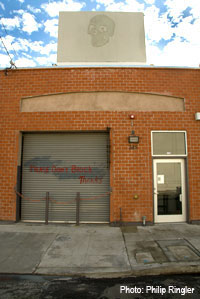 ABOUT
Studio Quercus is a non-profit artist-run exhibition space in Oakland, California. In 2010 Studio Quercus received its 501(c)3 status.
MISSION
An artists-run organization, Studio Quercus provides a conducive and congenial space and exceptional support for visual and performing artists to show their work. It is a place that cultivates creative exploration and an exchange of ideas, allowing for the unexpected to happen.
We uphold our mission with a great variety of multi-discipline programs, including individual and group exhibitions, live music, film screenings, performing arts events, special community events, artist talks, demonstrations, and workshops.
HISTORY
In 2008 Susan Casentini and Kyle Milligan began a search for a suitable and safe space for their art studios. They landed in the heart of the burgeoning Oakland art scene where they found the wonderful red brick building at 385 26th Street. With the space to realize full-scale individual and group art exhibitions, installations, and performance events, Susan and Kyle gathered a group of
like-minded creative individuals who were inspired to 'put on a show' for the community.